Dr. Jonathan M. Jackson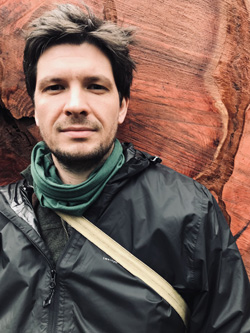 Tasks at the institute
Postdoctoral Researcher
Attached to sub-project A02 ('Past Futures: Micro-histories of rural development in the Kavango-Zambezi Transfrontier Conservation Area') within Phase 2 of the DFG-funded CRC-228, 'Future Rural Africa'
Current Project
Sub-project A02, 'Past Futures: Micro-histories of rural development in the Kavango-Zambezi Transfrontier Conservation Area', within Phase 2 of the DFG-funded CRC-228, 'Future Rural Africa'
Previous Project
Education
2018–2022, PhD, Afrikanistik, University of Cologne [0.6, magna cum laude]
2011–12, MSc African Studies, University of Oxford
2007–11, BA Swahili & History, School of Oriental and African Studies (SOAS), University of London [First Class]
Publications
Talks
March 2022. Past Futures: Histories of Development in the Kilombero Valley. Paper presented to the American Society of Environment History conference held in Eugene, Oregon, USA as part of the panel, 'Disaster and Recovery: New Themes in Eastern African History', convened by Prof James C. McCann.
March 2022. Introduction to 'Past Futures' as an emerging environmental history project. Contribution to Workshop on the Environmental History of the Kavango-Zambezi Transboundary Conservation Area, held in Namibia at the University of Namibia, Katima Mulilo Campus.
February 2022. Past Futures: Histories of rural development in KAZA Transfrontier Conservation Area. Contribution to Kick-off Workshop for the ERC project 'Rewilding the Anthropocene' [rewilding.de] held at University of Cologne, Germany.
November 2021. Guest lecture: Capitalism, Socialism or African Socialism? Struggles over Economic Growth. Delivered to second-year history undergraduates. University of Warwick, UK.
November 2021. Researching the history of development in Tanzania: oral histories, fieldwork and the colonial archive. Graduate training workshop, 'Research in Practice: East Africa'. Global History Africa, University of Warwick, UK.
November 2021. Britannia waived the rules: disillusionment, nostalgia, and misremembered roles among colonial officers after empire. Paper presented to The Cambridge History of Memory and Emotions Workshop. University of Cambridge, UK.
November 2020. 'Off to Sugar Valley': the Kilombero Settlement Scheme and 'Nyerere's People', 1959–69. University of Warwick Online Webinar Series.
June 2019. Past Futures: a developmental history of the Kilombero Valley, Tanzania. Conference paper presented at the European Conference of African Studies (ECAS), Edinburgh, UK.